Gastronorm (GN) pans are THE must-have item in every kitchen. They help keep your worktops and mise en place clean and well-organised, and are also suitable for storing, transporting and preparing food.
In this guide, we will provide an overview of the sizes, materials, variants and features of our GN pans. We will also give you some helpful tips on caring for these handy containers and the various ways they can be used.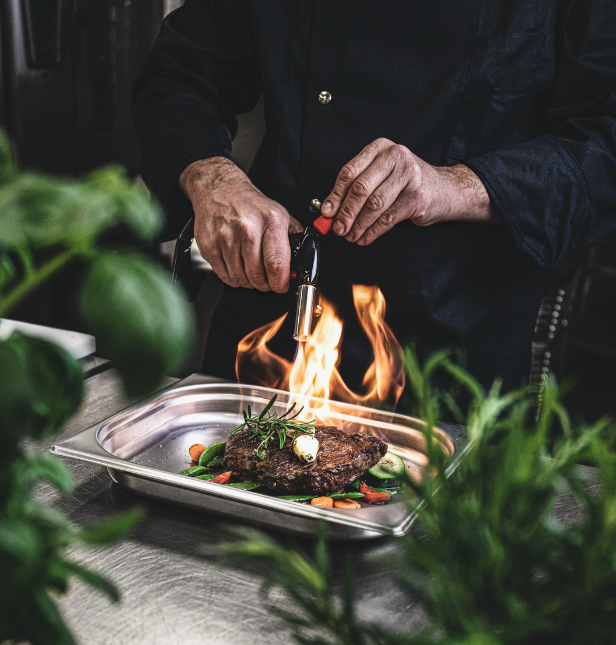 What are GN pans?
Gastronorm (or GN) is a standardised system of measurement for tray and containers (known internationally as 'pans'). GN pans are used primarily in large kitchens, snack bars, canteens, restaurants and any other businesses that involve food handling and preparation. The system is employed worldwide, facilitating the exchange of containers and everyday work – as well as helping keep drawers, refrigerators, buffets and countertops neat and well-organised.
Sizes
The basic Gastronorm measure is based on European Standard 631, with dimensions of 530 x 325 mm. Smaller sizes are indicated as fractions of the basic measure. GN pans are available in the following sizes: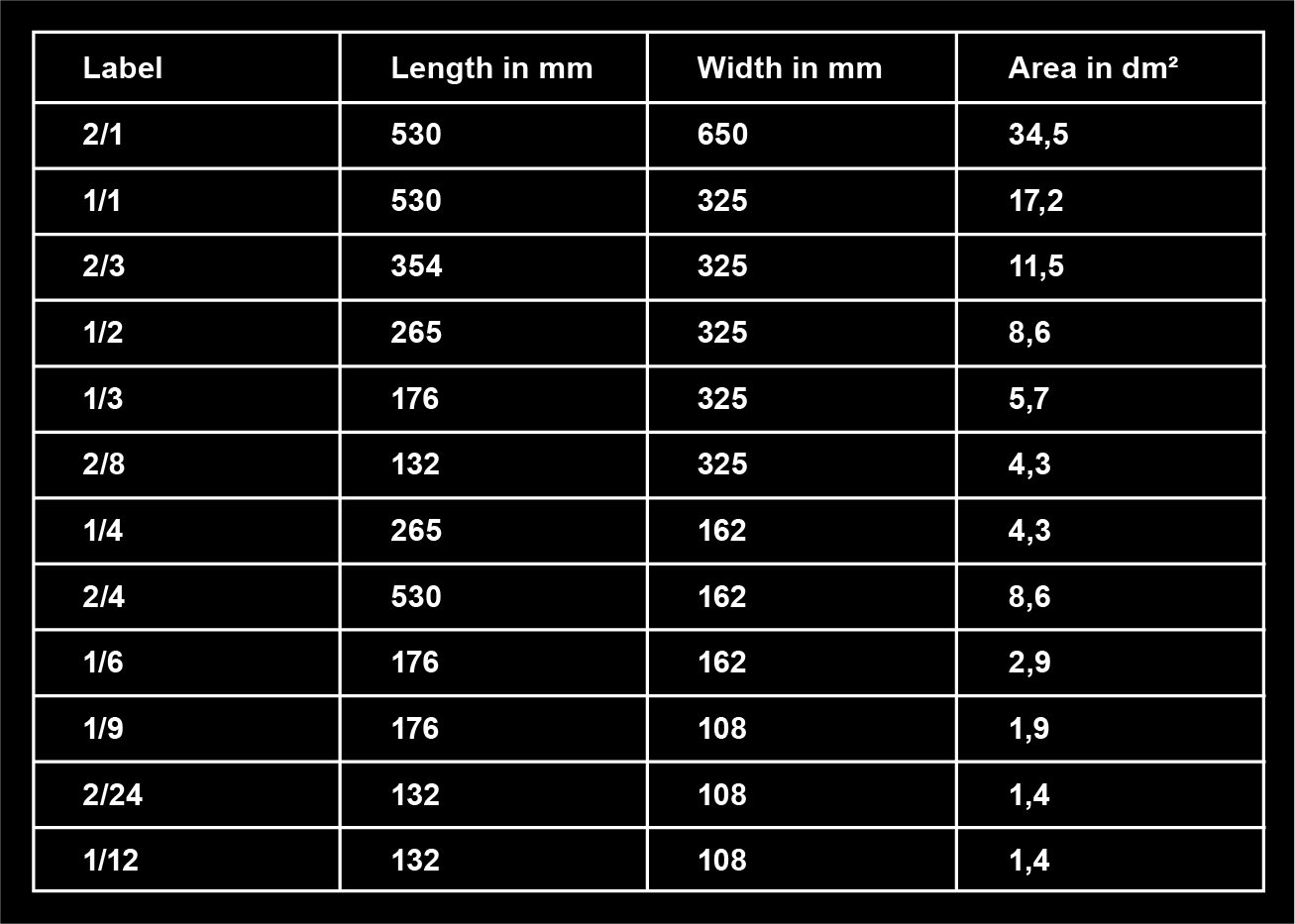 WAS Germany stocks a large selection of the most common GN pan sizes. If you can't find the size you're looking for, please contact us at office@wasgermany.com and together we'll find a solution that meets your needs.

They also come in various depths: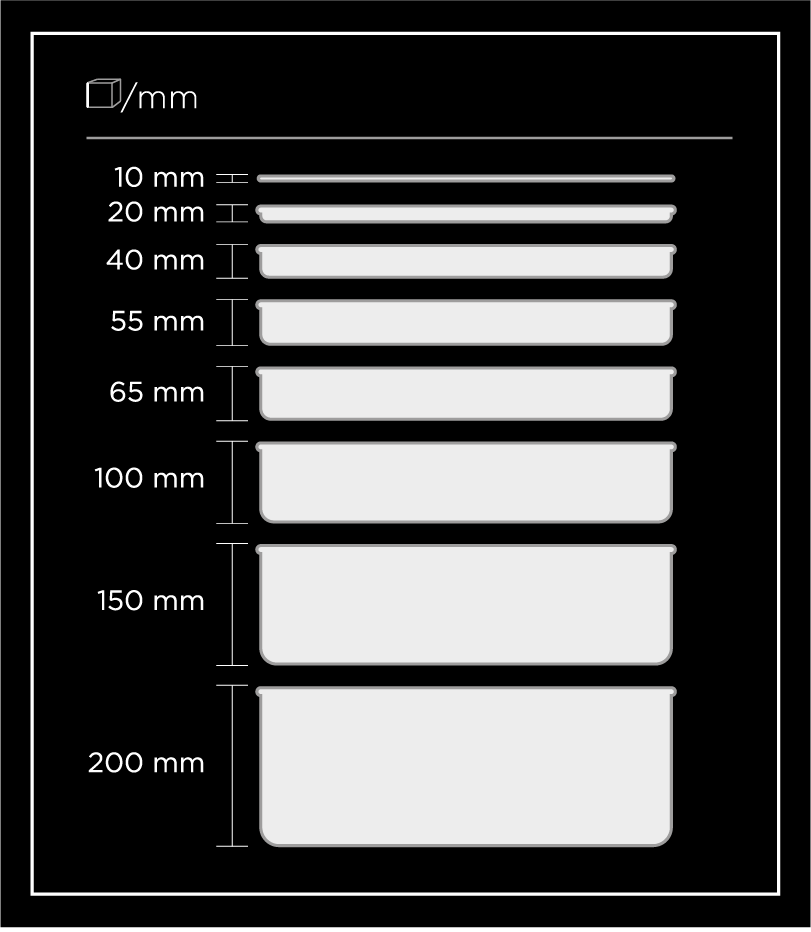 GN pans can be combined in a variety of ways. A 1/1 warming pan, for example, can be divided as shown: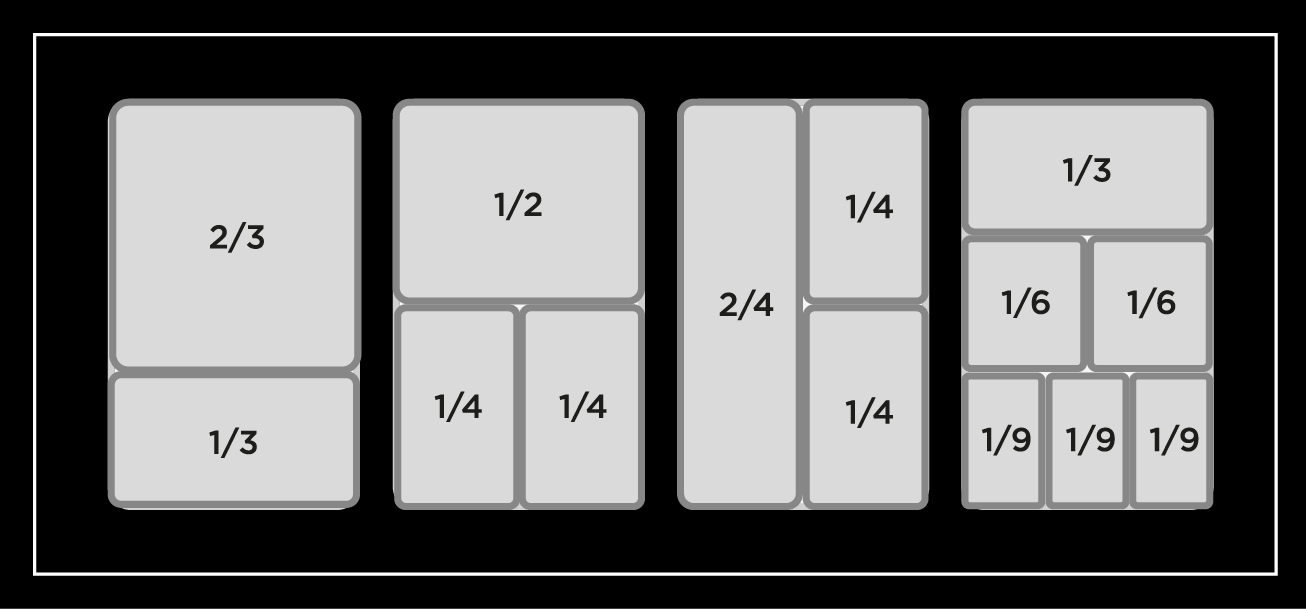 Materials
Our GN pans are available in a variety of materials, each with its own area of application. It's important that the right material is chosen for the intended purpose of the GN pan. Let's take a look at the individual properties: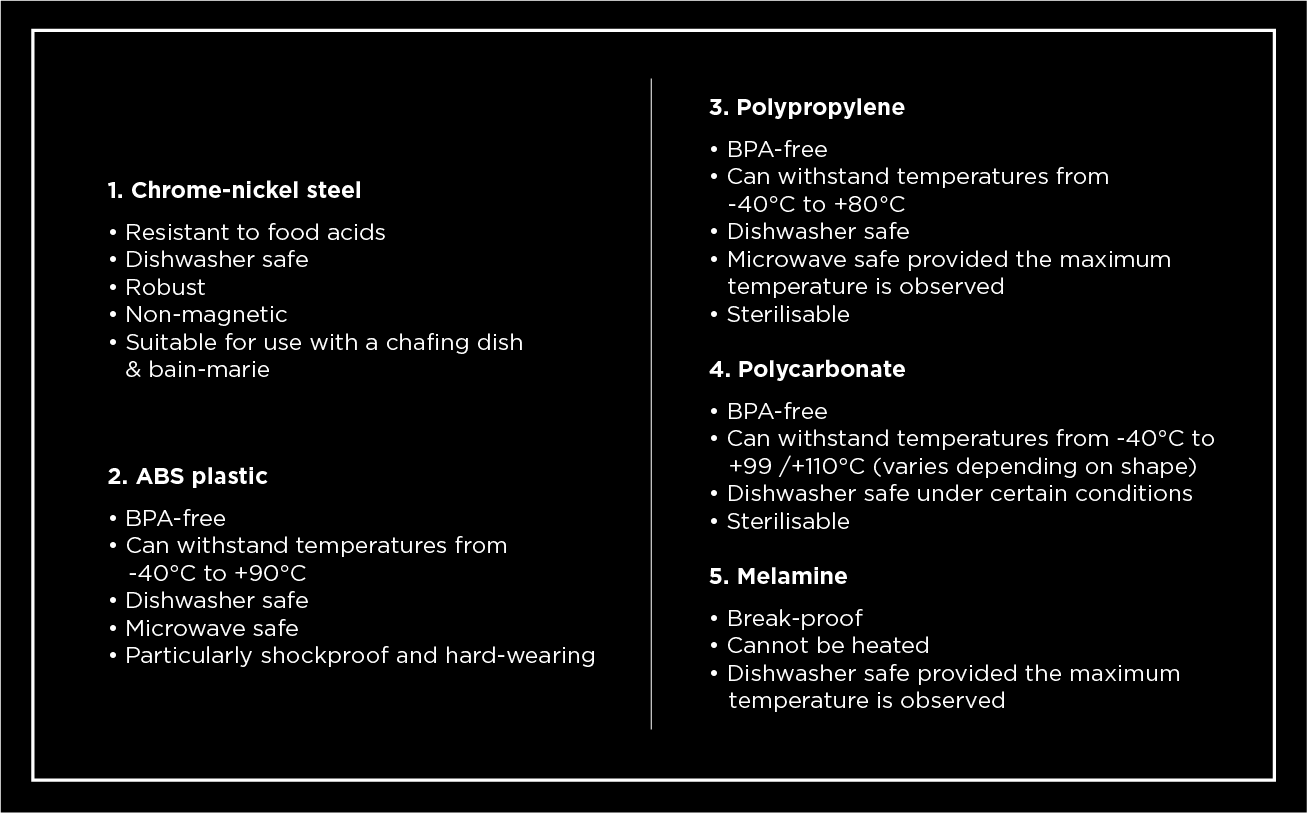 Variants and features
In addition to the basic models, our range includes GN pans with extra practical features. These help make daily life in the kitchen even easier, optimise work processes, and provide yet more possibilities for preparing, storing and serving food.

Let's take a look at the special variants:
Perforated GN pans: Perforated GN pans broaden your food preparation horizons. Not only can they be used to drain pasta, rice, potatoes or vegetables – they are also good for steaming, smoking and cooking. These pans significantly reduce cooking time and, if needed, can help food cool down faster.
 
Double-walled GN pans: Double-walled GN pans have excellent temperature-retaining properties. When used with an insulated container, food is kept hot or cold for even longer. This can be particularly useful at buffets or when transporting dishes.
 
GN pans with scale: Transparent GN pans made of polypropylene or ABS plastic can also feature a scale on the side, allowing you to clearly see the contents and determine the fill level at a glance.
 
GN pans with drop down handles: Drop down handles make Gastronorm pans even easier to handle and carry. Perforated versions are also available with these practical handles.
Properties
The properties of the different materials from which GN pans can be made have already been explained under the item "Materials". But there are some properties that all these containers have in common.

Let's take a look at what makes all Gastronorm pans so practical:
Stackable: All GN pans are stackable. Thanks to their shape, they fit snugly inside each other to save space when they're not being used. For best results, we recommend buying all your GN pans from the same manufacturer. This is because the edges of the containers are not standardised, so different manufacturers may use different designs that effect their 'stackability'.
 
Flexible set-ups: Thanks to their standardised sizes, GN pans can be combined in a variety of ways. In a 1/1 chafing dish, for example, you can use various combinations of pans depending on your particular needs. This allows you to keep different dishes warm and ready to serve at the same time and provides the greatest degree of flexibility.
 
Interchangeable: A big plus with GN pans is their interchangeability. For example, thanks to the standardised sizes, food suppliers can deliver a full container and take one of your empty ones back in return. Easy, right?
 
Robust: Gastronorm pans are extremely robust. This is what makes them so suitable for large kitchens, canteens and catering. Even with intensive daily use, the containers remain durable and keep their shape.
Cleaning & care
The right way to clean and care for your GN pans depends on the material. All our models are dishwasher-safe and can be cleaned quickly and easily. 

But let's take a closer look at each material:
Chrome-nickel steel: Chrome-nickel steel is long lasting and easy to look after. When cleaning, make sure to remove any lime scale or detergent deposits. You can use stainless steel cleaner to get rid of surface rust. Please do not clean these containers with steel wool, as this can roughen or scratch the surface – and keeping that metallic shine is important for the surface to stay resistant to external chemicals.
 
Polycarbonate & polypropylene: GN pans made of polycarbonate and polypropylene are also easy to clean and care for. They can withstand high temperatures, are scratch-resistant and robust. However, we recommend that you do not expose these containers to direct sunlight, as this can make the materials porous and brittle over time. By the way: GN containers made of both these materials can be sterilised.
 
ABS plastic: GN pans made of ABS plastic can be put in the dishwasher or simply washed by hand. Please do not use abrasive cleaners like scouring agents, as these may scratch the surface. We recommend drying the product after cleaning.
 
Melamine: Standard washing-up liquid can be used to clean melamine. However, special melamine cleaners provide the best results. Please refrain from using steel wool or scouring agents, as these may damage the surface of your GN pan. Contact with open fire and hot stove tops as well as repeated hard knocks should also be avoided if you want to enjoy your melamine container for a long time.
Accessories
You can easily expand the functionality of your GN pans with the right accessories. We stock the following items: 
GN pan lid
Our wide variety of lids cover every GN pan and all eventualities. The range includes both plastic lids and those made of chrome-nickel steel. Some variants are hermetically sealing, ensuring airtight storage. Others have a practical spoon recess, which is particularly useful in canteens and buffets.
The Silicone Flexsil lids are available in a variety of colours and sizes. They create an airtight seal for your GN pans and have even been awarded the title of 'Best Catering Equipment & Food & Safety Innovation' [source: www.flexsil-lid.com]. What's more, these lids can withstand temperatures from -40°C to 220°C and can easily be written on with water-soluble pens.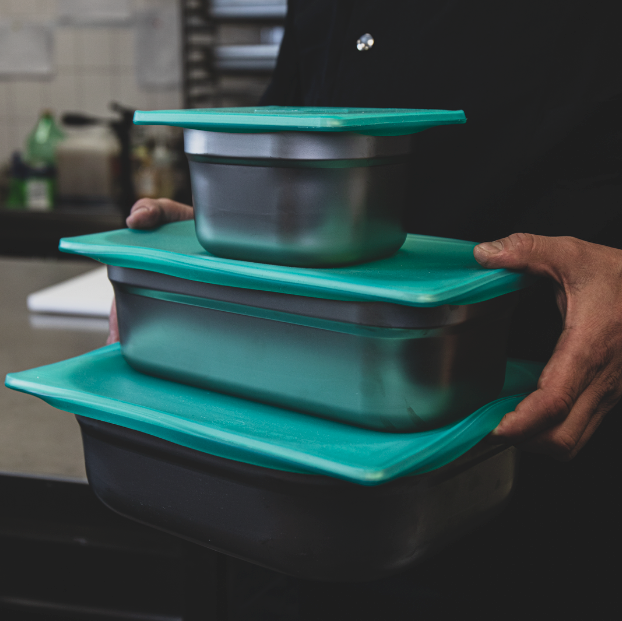 Colour codings clips
These small colour coding clips come in the HACCP concept colours. They can be quickly and easily attached to your GN pans to provide information about the contents at a glance. They can be easily removed and reattached again and again without losing their stick.

Colour-coded HACCP concept: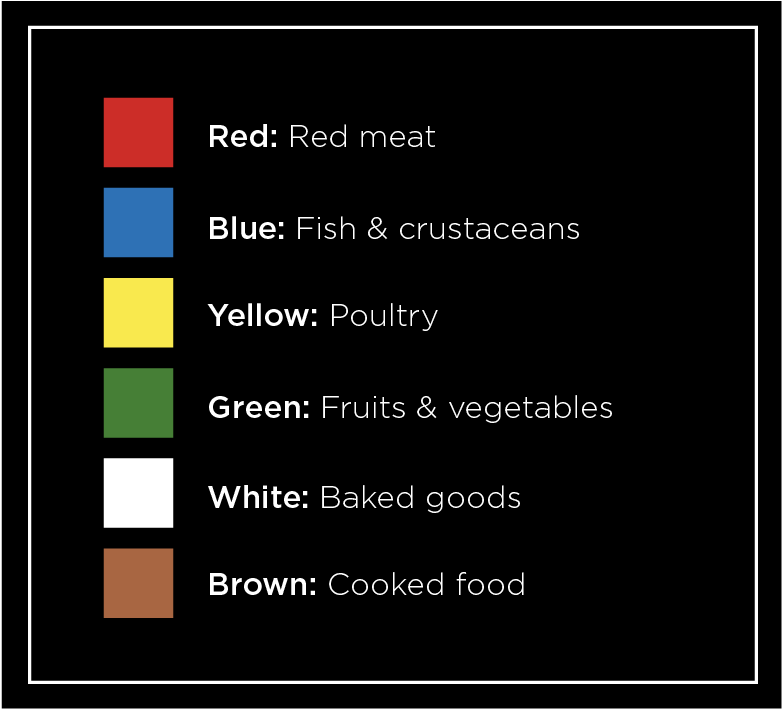 Shelves
Shelves and draining racks specially designed for GN pans create a space between the base of the container and its contents. This can be useful, for example, for draining vegetables or salad after washing. The shelves and racks can easily be inserted and removed and are available in different sizes.
Insulated transport container
Insulated transport containers are an important accessory – particularly for catering and food delivery. The large boxes can hold several GN pans at once. They can be tightly sealed and have a practical ventilation valve. You can also mount them on a dolly for easy transportation.
Trolleys
Trolleys make transporting GN pans easier and more hygienic. Even full GN pans can be moved quickly, safely and easily. The trolleys also allow you to use to same container for storage, transportation and presentation – removing the need to transfer food. This cuts out extra work steps and saves valuable staff time.
Possible uses
GN pans offer a wide range of uses – from preparing and serving to storing food. Here, we take a closer look at the many ways these practical helpers come in handy in the kitchen.
Preparation and cooking
Gastronorm pans help you keep your mise en place neat and well-organised. But that's not all: you can also use these pans for steaming, smoking, grilling and frying. Perforated GN pans even function as a sieve.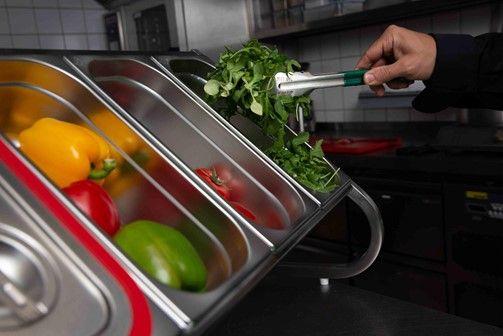 Serving
The work of a GN pan is not over once the food has been prepped and cooked, as these containers are also ideal for serving – be it in canteens, at buffets or at a self-service counter. A chafing dish or bain-marie can be used to ensure food is kept warm. By the way: GN pans are also great for serving ice cream.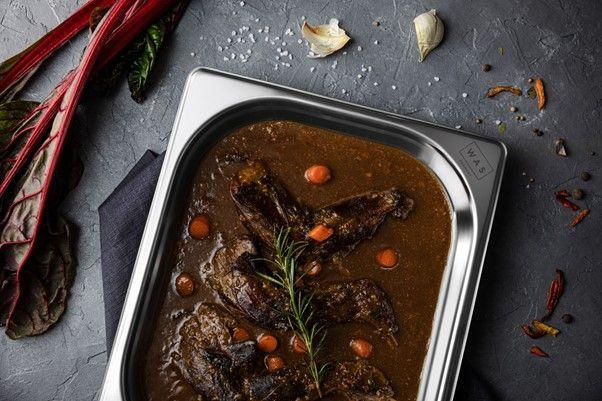 Storage
Last but not least, Gastronorm pans can also be used for storage. You can cool and freeze food with ease in these versatile containers. And thanks to the matching lids, they can also be hermetically sealed to ensure the contents last longer.
FAQs
What's the difference between a 1/2 GN pan and a 2/4 GN pan?

These two sizes differ in shape: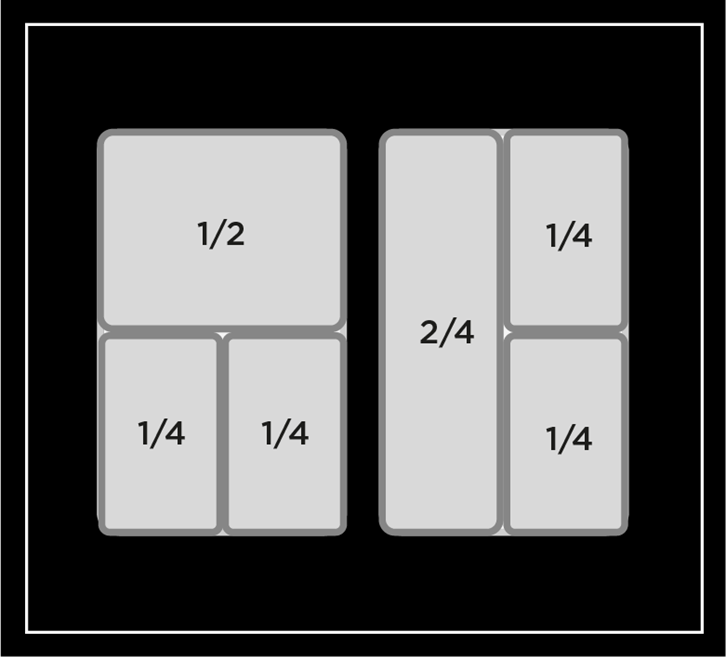 Is plastic or stainless steel better for freezing? Both materials are equally suitable for freezing food.
 
What does "clear width" mean when referring to GN pans? The clear width is the internal measurement from one side of the container to the other. Unlike the external dimensions, this is not standardised and can therefore vary from manufacturer to manufacturer – which can mean that GN pans bought from different suppliers may not stack perfectly.
Do you have any more questions about our GN pans? We would be more than happy to help. Simply write to us at office@wasgermany.com.